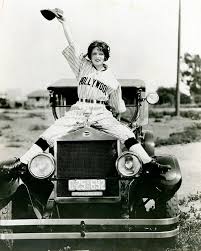 Is a Tomboy a Clown or a Non-Clown Clown – Clara Bow is Such a Creature(s).
Clara Bow is a mythological figure synonymous with the beginning of the film industry. She had an extraordinary challenging childhood. But from the moment she began in film at the age of 16 several critics cited that she was an incredible actress. I've just looked at a few of her earliest short films. WOW!!!!!!!!! After a very successful career, she then at about the age of 30 gave it up to become a farmer with her husband Rex Bell. She's an unbelievably thrilling actress and she must have been notoriously creative within the filming process. She's the living example of what I've long believed should be the base line for any actor. I refer to that as "Mercurial Acting" and claim that the works of Shakespeare demand us as actors to TAKE THE STAGE …. AND …. be completely generous and responsive to our stage colleagues…. YET …. in my view we the actors MUST provoke our stage partners WHILE responsive to our colleagues responses to and with our provocations. Clara Bow does that. The films from nearly 100 years ago vibrate with her presence and demeanor and candor. WOW!!!!!! As always, I am just 'hinting' with a VERY LOUD VOICE that "something is rotten in the state of…" (Hamlet's line) – of the institutional 'training' of Clowns, Actors, Shakespearean Actors, so-called 'physical theatre'; and with the teaching and directing in those fields. Clara Bow is, what I consider as one of The Matriarchs of Clown. The Clown Lineage is two integrated threads of: The Matriarchs and The Patriarchs. Notably almost invariably the actors in each thread ALWAYS were primarily interacting in co-leads with a member (pun intended!) of the opposite sex (no matter what their intimate life preferences may have been).
After I drew those conclusions about Clara as written just now in that paragraph. I then watched this clip with an equally wondrous actress – Louise Brooks!!!!!!!
https://thewalkingboxranch.sites.unlv.edu/exhibits/show/clarabow/clarasbeginning
To be sure, Clara Bow was a complicated person. One might even label her a 'troubled soul'. But that should not take away from the extreme joy that she not only brought to film audiences and memories that they could take home, but, also she deeply inspired the whole of the film and acting industry. A mere glimpse of the factors in her early childhood – including that before she was born two siblings died at birth and the doctor advised the Mother not to try to have children again as it could endanger her own life. On that note – Clara was born – into poverty. First years in the infamous squalor of the New York City tenements.
Below is wonderful concise article about Clara. It includes several varied and wonderful clips of her acting-and-action.
https://www.theguardian.com/film/filmblog/2016/jun/21/clara-bow-wild-child-hollywood-history-silent-film
Here is the complete 2nd film that Clara had a small role in. You can find her excerpts on youtube and many more of her films, and various documentaries about her.